NFAC ASSEMBLY INFORMATION - Panel 67
Wyndham Garden Gainesville
2900 SW 13 St.
Gainesville, FL 32608
Phone: (352) 377-4000
HOTEL BOOKING:
To book a room you need to call hotel with code NFAC
AGENDAS ARE POSTED APPROXIMATELY 30 DAYS BEFORE EACH ASSEMBLY
July Host Districts: 14, 27, 28, 21/32
Host District(s) Responsibilities
Future Assembly Dates:
2018
September 28-30
2019
January 4-6 | April 5-7 | July 12-14 | September 27-29
Hotel Booking Links:
January 2019
April 2019
July 2019
September 2019
September 2018 Agenda:
Time
Event
Location
Chair
Friday, September 28
6:00pm-8:00pm
Registration
Promenade
Host District 14
8:00pm-9:00pm
Discussion Meeting
Ballroom A
Host District 27
Saturday, September 29
7:00am-11:30am
Breakfast Buffet $10.00
Restaurant
8:00am-4:15pm
Registration
Promenade
Host District 14
8:00am-4:00pm
Grapevine/ La Viña Room
Lakeview North
Host District 28
10:00am-4:00pm
Registrar Room
Promenade
Stephen R.
10:00am-4:00pm
Archives Room
Kanapaha
Maria S.
9:00am-9:45am
GSR Orientation
Ballroom B
Tom G.
9:00am-9:45am
Officers-Service Coordinators - DCM's
Ballroom C
Annette D.
10:00am-11:00am
NFAC FL State Convention Oversight
Lakeview South
Heather V-W
10:00am-11:00am
Public Information
Ballroom C
Clark M.
10:00am-11:00am
Corrections
Ballroom A
Gayle E.
10:00am-11:00am
Literature
Ballroom B
Marcela W.
11:15am-12:15pm
Accessibilites
Ballroom C
September Grace W.
11:15am-12:15pm
Archives
Ballroom B
Maria S.
11:15am-12:15pm
Cooperation Professional Community
Lakeview South
Mark A.
11:15am-12:15pm
Grapevine
Ballroom A
Deb B.
12:15pm-1:30pm
Lunch Hotel Menu
Restaurant
1:30pm-2:30pm
Service Manual
Ballroom C
Tom G.
1:30pm-2:30pm
Treatment
Ballroom A
Peter C.
1:30pm-2:30pm
Intergroup
Lakeview South
Paula D.
1:30pm-2:30pm
Ask The Officers Forum
Ballroom B
Annette D.
2:45pm-4:15pm
Finance Committee
Ballroom A
Greg N.
2:45pm-3:45pm
GSR Sharing
Ballroom B
Joyce C.
2:45pm-4:15pm
Growth Committee
Lakeview South
Heather V-W
2:45pm-4:15pm
Site & Agenda Committee (Español)
Ballroom C
Richard C.
2:45pm-4:15pm
Website Committee
Paynes Prairie
Steven N.
4:30pm-6:00pm
AA's Other 12 Principles - The 12 Concepts (Español)
Bivens North/South
Glenn W.
6:00pm-8:00pm
Dinner Hotel Menu
Restaurant
7:00pm-7:45pm
Registration
Promenade
Host District 14
8:00pm-11:00pm
Business Meeting (Español)
Grand Ballroom
Annette D.
Sunday, September 30
7:00am-9:00am
Breakfast Buffet $10.00
Restaurant
8:00am–8:45am
Registration
Promenade
Host District 14
9:00am-?
Panel 69 Elections
Grand Ballroom
Annette D.
12:00-3:00pm
Lunch Hotel Menu (No break in Meeting)
Restaurant
This agenda is only tentative and is for informational purposes only. The final agenda will be made available at the upcoming Assembly.
Conference Room Map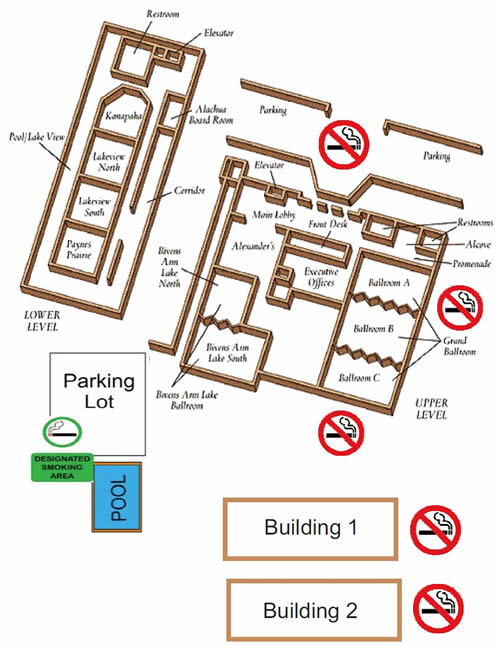 Conference Room Distribution

| Meeting Room | Event(s) |
| --- | --- |
| Ballroom A | Corrections, Grapevine, Treatment, Finance Committee, Discussion Meeting |
| Ballroom B | GSR Orientation, Literature, Archives, Ask The Officers Forum, GSR Sharing |
| Ballroom C | Officers-Service Coordinators - DCM's, Public Information, Accessibilites, Service Manual, Site & Agenda Committee (Español) |
| Board Room | Registrar |
| Grand Ballroom | Business Meeting (Español), Panel 69 Elections, |
| Paynes Prairie | Website Committee |
| Promenade | Registrar Room |
| Lakeview South | NFAC FL State Convention Oversight, Cooperation Professional Commuity, Intergroup, Growth Committee |
| Bivens North/South | AA's Other 12 Principles - The 12 Concepts (Español) |
| Lakeview North | Grapevine/ La Viña Room |
| Kanapaha | Archives Room |
| Promenade | Registration |
Registration will be outside the Grand Ballroom in the Promenade Upper Level Lobby.
Grapevine/La Viña Room open Saturday from 8:00 am - 4:00 pm in Lakeview North located on Lower Level.
The Archives Committee display is open all day Saturday from 10:00am – 4:00pm. Archives display is in the Kanapaha room.
The Registrar is available periodically Friday evening and during the day on Saturday for GSRs and DCMs to drop off group/district change forms or update your information with the NFAC in the Boardroom.
If you need an ASL Interpreter, please have your DCM contact Assembly Alternate Chair as early as possible before the Assembly weekend.
IMPORTANT REMINDER: In order to vote at the Sunday Business Meeting you must be in your seat at your District's assigned table by 9:00AM for Roll Call.
If your District has special needs please contact Accessibilities and they will notify the Alt. Chairperson.