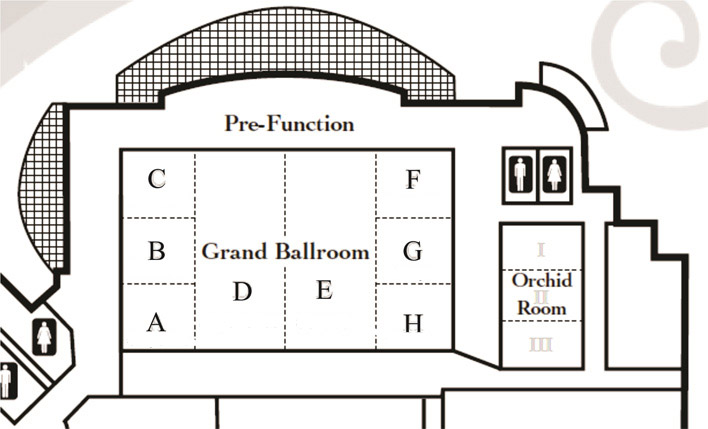 | | |
| --- | --- |
| Meeting Room | Room Name |
| Grand Ballroom | Friday Evening |
| Grand Ballroom | Sat. Conference Agenda Items & Sun. Business Mtg. |
| Salon A | Grapevine Room |
| Salon B | Archives Room |
| Salon C | Registrar Room |
| Salon D | Public Information; Service Manual; Literature; Growth Committee |
| Salon E | GSR Orientation; Treatment & Accessibilities; Traditions; Finance; Grapevine |
| Salon F | DCM Mini Wkshp; FSC Oversight Committee; Corrections; Site & Agenda |
| Salon G | Officers-Service Coordinators; Website |
| Salon H | Intergroup; Las Tradiciones; CPC; |
| Registration | Pre-Function |
The Grapevine Store is open in the Grapevine Room from 10:00am – 6:00pm Saturday. The Grapevine Room is located in Ballroom A. The Registration Desk location is at the Pre-Function area.
The Archives display is open Saturday from 10:00am – 6:00pm in Ballroom B
There is an Ice Cream Social Saturday Night following the Speaker Meeting. Location is Ballroom E-H. The cost is $8 inclusive of tax and gratuity and cash only.
There is a breakfast buffet Saturday and Sunday mornings for $11 inclusive of gratuity and tax, in Bistro 1501 at the Hotel restaurant.
Regular AA meetings can be held at the poolside patio, weather permitting, at 7:00am and 11:00pm Saturday and 7:00am Sunday. If weather does not permit, then the meeting will be held in the Cypress Room please see our Alternate Chairperson to arrange.
The Registrar is available on Saturday for GSRs and DCMs to drop off group/district change forms or update your information with the North Florida Area Conference and GSO, in Ballroom C.
If you need an ASL Interpreter, please have your DCM contact the Site & Agenda Chair (also the Assembly Alternate Chair) as early as possible before the Assembly weekend.
IMPORTANT REMINDER: In order to vote at the Sunday Business Meeting you must be in your seat at your District's assigned table by 9:00am for Roll Call.